When you hear about the music of a guitar virtuoso with a doctorate in philosophy, who cut his musical teeth performing and collaborating with singer-songwriter Al Stewart ("Year of the Cat"), you know you will be getting something different. In a career that has spanned a dozen albums and thousands of shows ranging from living room concerts to the Royal Albert Hall, Dave Nachmanoff has built a loyal fan base and a unique niche as a performer and songwriter.
Over the years, he has shared the stage with a long list of legends of the folk and rock music worlds, including the likes of Alison Krauss, Steve Forbert, Firefall, John Wesley Harding, and blues legend Libba "Freight Train" Cotten (when he was ten years old). Dave toured up until March 2020, playing well over a hundred shows a year in listening rooms, private house concerts, and at other events. Since the pandemic, he has focused on producing other artists, writing and recording custom songs, teaching master classes and Zoom songwriting lessons, and livestreaming on YouTube from his studio in Davis.
---
Jay is a roots music one-man-band from Black Mountain, North Carolina, who has been playing guitar since the age of seven and writing songs since high school. A prolific songwriter, Jay's performance repertoire contains more than 100 original songs, as well as hundreds of covers from a wide spectrum of genres. Jay has spent years traveling and playing around the U.S., absorbing our rich musical heritage and performing with artists such as Doc Watson, Old Crow Medicine Show, and Etta Baker. Jay has also taken multiple trips to Ghana, West Africa, where he studied and performed traditional African music with the Ghanaians.
His eclectic musical tastes found expression in 1998, when he became a founding member of Lazybirds, a band that blends a wide variety of musical styles, including jazz and blues, country and rock 'n' roll, to create a fresh and soul stirring sound. Lazybirds have been a mainstay of the North Carolina roots music scene for over 20 years.
Jay also formed the Indian folk fusion band Shantavaani with his wife Aditi, which put out three classic albums during its 2 year period. Jay continues to perform with Aditi, blending Aditi's Indian folk and classical influences with his own folk and original music. More recently Aditi and Jay can be found playing in the acoustic band The Appalucians, along with Angie Heiman and Cas Sochacki, of The Blushin' Roulettes. The Appalucians debut album Bright Hills was a long running top 10 folk album on college radio in 2018.
Jay spent eight years working as a music therapist in Hospice. This enriching work has had deepening influence in Jay's music over the years. A versatile musician, Jay is as much at home swingin' the blues and boogie with his buddies in the Lazybirds as he is playing songwriter showcases and house concerts, but you can usually find him blending his styles in the pubs and listening rooms around the Appalachian mountains of North Carolina.
---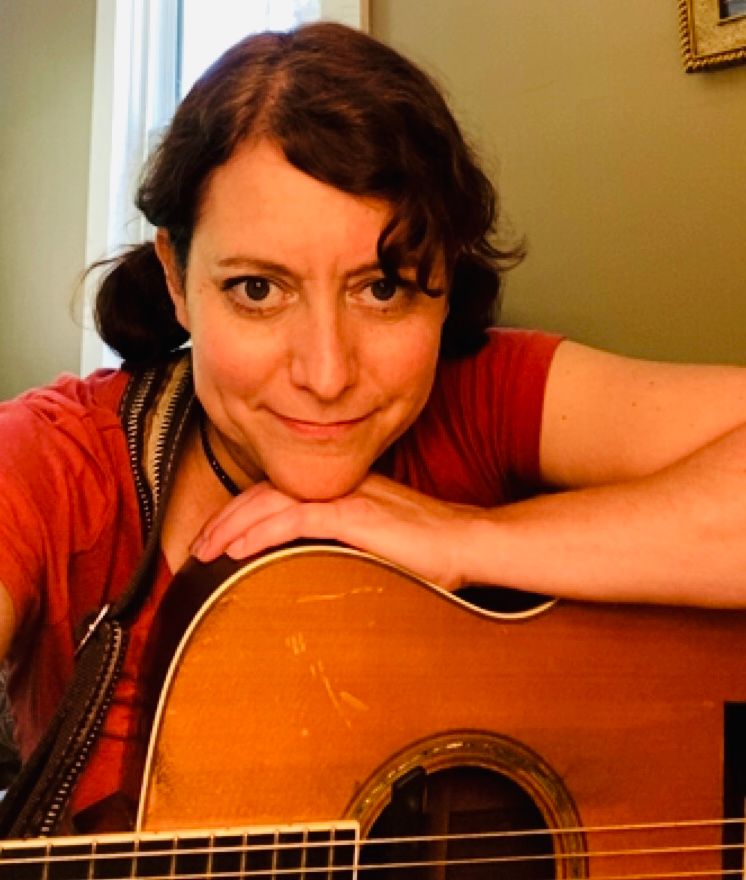 Angie writes earthy Americana folk songs, belting stirring sagas of damsels in their bliss and distress in a clarion vibrato often likened to Emmylou Harris. The San Francisco Free Folk Festival called her songs "stripped down, sexy little jewel boxes stuffed with ancient mountain magic." With her 2020 release "Edge of East," Heimann ushers in the most recent era of her ever-evolving sound—the well-worn patina of Americana present in the last decade of songs with her band The Blushin' Roulettes, with the added polish of a more modern layered musical approach.
For decades Angie Heimann has graced the underground of American folk, touring colleges and folk clubs in her twenties, spending her thirties in the insular Americana scene of the Mendocino coast, and relocating to the mountains of western North Carolina, where she currently plays with the Appalucians and with the Blushin' Roulettes.
Angie has won songwriting awards in KZFR/Sierra Nevada's Celebration of the Song, Woody Guthrie Songwriting Contest, Artists for Literacy SIBL Songwriting Contest, and South Florida Folk Festival.
---
Michael grew up in the train town of Niles, California in the San Francisco East Bay hills. His songs read like short stories, full of heart, humor, and a keen eye for detail. Seasoned vocals and clean guitar work underscore the characters and places in his travels. He tours the US as a solo act, and occasionally gets a band together as McNevin & The Spokes. He is a winner of the Kerrville New Folk Award in Texas, a seven-time winner of the West Coast Songwriters "Song Of The Year" award, and a Performing Songwriter magazine "DIY Artist Of The Year." He's shared hall stages with Johnny Cash & The Carter Family, Donovan, Shawn Colvin, Laura Nyro, Richie Havens, and many others across the US and Europe. Festival appearances include Strawberry, High Sierra, Kerrville, Redwood Ramble, American River, Philly Folk Fest, and SummerFolk. He has five CDs and a couple of hard-to-find cassettes. Michael is also an Etch-A-Sketch artist of some renown.
In his spare time, Michael runs The Mudpuddle Shop, a converted barbershop. Now in it's twelfth year, it is a hive for concerts, jams, swaps and workshops.
---
David Pascoe and Laura Benson are founding members of Late for the Train. These songwriters and multi-instrumentalists straddle the line between folk trio and string band with instrumental versatility, rich vocals and subtle harmonies. Their music ranges from joyful fiddle tunes and bluegrass riffs to melancholic folk songs, true to the tradition of narrative songwriting and storytelling.
During their tours in California, Oregon, New Mexico and Colorado, Late for the Train has played at notable venues and festivals such as Telluride's historic Sheridan Opera House, the Music on the Mothership Festival in Taos, Cervantes' Other Side in Denver and Soho Music Club in Santa Barbara.
---
As a multi-faceted musician,  Stan is a songwriter, multi-instrumentalist, composer, and conductor, in one amazingly musical power pack. He recently released the rock opera Silver Bullet in co-production with Derek O'Brien (Social Distortion). His album Long Day's Journey was named a "DIY Top Ten" record by Performing Songwriter magazine in 2002. He has co-produced multiple records for Moonshine, Corrina Carter, Jellykka, Onward Etc., and Rick Schiller, among others. As an educator, he taught music at Coastline Community College for 26 years and authored an online music history course. He is the Minister of Music at Grace First Presbyterian Church in Long Beach, where he directs the choir for the traditional service and leads the band for the contemporary service, and he runs a band camp for kids every summer. Stan's gifts are an invaluable part of camp year after year.
---
Severin was raised in a musical family where all the children were expected to play an instrument. He began with accordion, then moved to drums and saxophone before settling on guitar at the ripe old age of ten. His older brother Jackson, a talented singer/songwriter with many albums for the Asylum/Elektra labels, started out as first chair cornet in the elementary school band, where Severin soon joined him on the drums.
A former Motown recording artist and staff songwriter, Severin continues to enchant audiences with his clear voice, masterful guitar playing and finely crafted songs. After leaving Motown in the mid-seventies, Severin spent his time writing and performing in the Los Angeles area, where his songs were recorded by Thelma Houston, Patti Dahlstrom, Colin Blunstone, Twiggy, The Dillards, and Pamela Stanley, who had a Billboard #15 hit with Severin's "I Don't Want To Talk About It."
His three post-Motown CDs, From the Edge of The World (1996), This Twisted Road (2001), and Lucky Man—A Songwriter's Notebook (2012) have gotten great reviews. With roots in pop, jazz, country, rock and R&B, Severin surprises his acoustic audiences with his melodies.
---
Sara has been writing songs for two decades and is an enthusiastic member of The Mudpuddle Shop gang. Raised in a musical family, she ran away from home to join The Hanes Family, an ecclectic folk-y group for which the Freight & Salvage Coffeehouse created a new genre—World Mountain Music. She recently released her first album of original songs, Cinders in the Wind. A veteran graphic designer for the music industry, she has created CD packaging, websites, and other promotional materials for Holly Near, Laurie Lewis, Brittany Haas, Kitka, Ray Bierl, Wake the Dead and many others. She is happy to answer questions about copyrighting, publishing, streaming distribution, and CD packaging options.
---
Rebecca accompanies herself on guitar, banjo and percussion. She won first place in songwriting at the Gig Harbor Folk Festival in Washington in 2007. Her song "Animal Skin" was a finalist in the 2011 International Acoustic Music Awards, Best Folk/Americana/Roots category. She's a member of the Honeysuckle Possums, a harmony-based old-time, originals and bluegrass band. CDs: Turning Around and Animal Skin. Past gigs: Bodie House, Auburn House Concert Series, Magic Juju Houseboat series, Trinity Backstage, Songtree Concert Series; also, Live Oak, Gig Harbor, Old-Time Fiddler's Convention and Parkfield music festivals.
---
Mark is a staple of the East Coast scene, and  musical Diehard battery at song camp as teacher and coach here in the West. A top notch bassist and professional recording engineer for more than 30 years, he has worked with hundreds of artists at his studios in New York City and Woodstock, including engineering and playing on the legendary Fast Folk Musical Magazine recordings. He'll be everywhere at song camp—tap Mark for bass lessons, combo performance help, chart writing, and Mac Garageband 101. He's also the camp Guitar Doctor… we think he has a blue Gui-Tardis.
---
Linda has been an artist all her life, working in many different media, including canvas, concrete design and sculpture. She paints in watercolors, oils, pastels and acrylics. Her Saturday afternoon class includes painting demonstrations and a variety of techniques in water media, inspired by our lovely oceanside location. She is here for you, with personal guidance to nurture your creativity, while encouraging you to listen to your own artistic voice. In addition to her visual art, she's attended song camp regularly for several camps, and writes lyrics and spoken word, as does her husband Virgil. Words and paint—it's all art!
Linda has a BA in Fine Art from the University of Wisconsin, an MS in Education from Cal State and an MFA in Fine Art from SFSU.